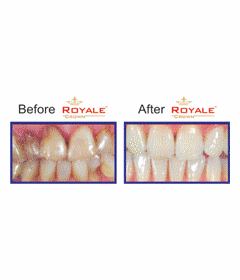 A Royale Crown is a custom-made tooth-shaped cap, which can be fitted over your existing front or back teeth - to help them function normally and to improve their look. Royale Crowns are usually fitted when your existing tooth is vulnerable, damaged, or in need of cosmetic enhancement.
Click here to see common dental problems that Royale Crown can fix.
Why is Royale Crown Special?
As India's first and only branded dental restorations, and with over 20 years of international experience, quality is at the heart of everything we do.
All Royale Crowns are constructed using state-of-the-art CAD/CAM computerised equipment. Impressions of your individual teeth are scanned digitally for unparalleled fit, form and function.
This results in perfectly fitting teeth - and a natural looking smile.
Our focus is on high quality craftsmanship, use of the finest imported materials, and meticulous attention to detail. That's why all of our branded restorations come backed with a warranty card.
The rest of our website will help you better understand what dental problems Royale Crown can fix and how you will benefit by choosing one of our branded dental restorations.
Where can I get Royale Crown?
Royale Crowns are only available through member dentists that are registered with Royale Crown and Teeth Pvt Ltd.
Your nearest Royale Crown member dentist will be happy to provide more information. During a consultation they will be able to assess your teeth and explore the treatment options available to you, and fit your Royale Crown.
If you need help finding your nearest Royale Crown member dentist, don't hesitate to contact us.

&nbsp