Why is Royale Crown PFM so special?
The term PFM stands for "Porcelain-Fused-to-Metal". This type of Royale Crown consists of a metal shell, upon which our expert ceramists then than apply porcelain layers which bond to this metal shell. This gives Royale Crown its natural white tooth-like appearance.
Here's just some of the reasons why Royale Crown PFM is the quality branded restoration of choice.
How It's Made:
We only use the finest and purest imported materials. This is because your safety and comfort is our priority.
What It's Made From:
Unlike traditional PFM crowns (which are designed manually by hand) - in Royale Crown PFM we uniquely scan the impression of your teeth using computers.
We then design the tooth using our state-of-the art computer software to precisely match the shape, size and contours of your tooth.
This computerised approach delivers the most accurate fit possible and ensures consistent quality in each and every Royale crown.
Who it's made by:
Royale Crowns are made to international standards - crafted by qualified and trained technicians
Our Warranty:
For your peace of mind we offer a 5-year warranty certificate with Royale Crown PFM.
Can a Royale Crown help fix my teeth?
There are a variety of reasons why a dentist may recommend a Royale Crown. Click here to see some of the dental problems that Royale Crown can help fix.
What's the difference between Traditional Porcelain Fused to Metal Crowns versus Royale Crown PFM?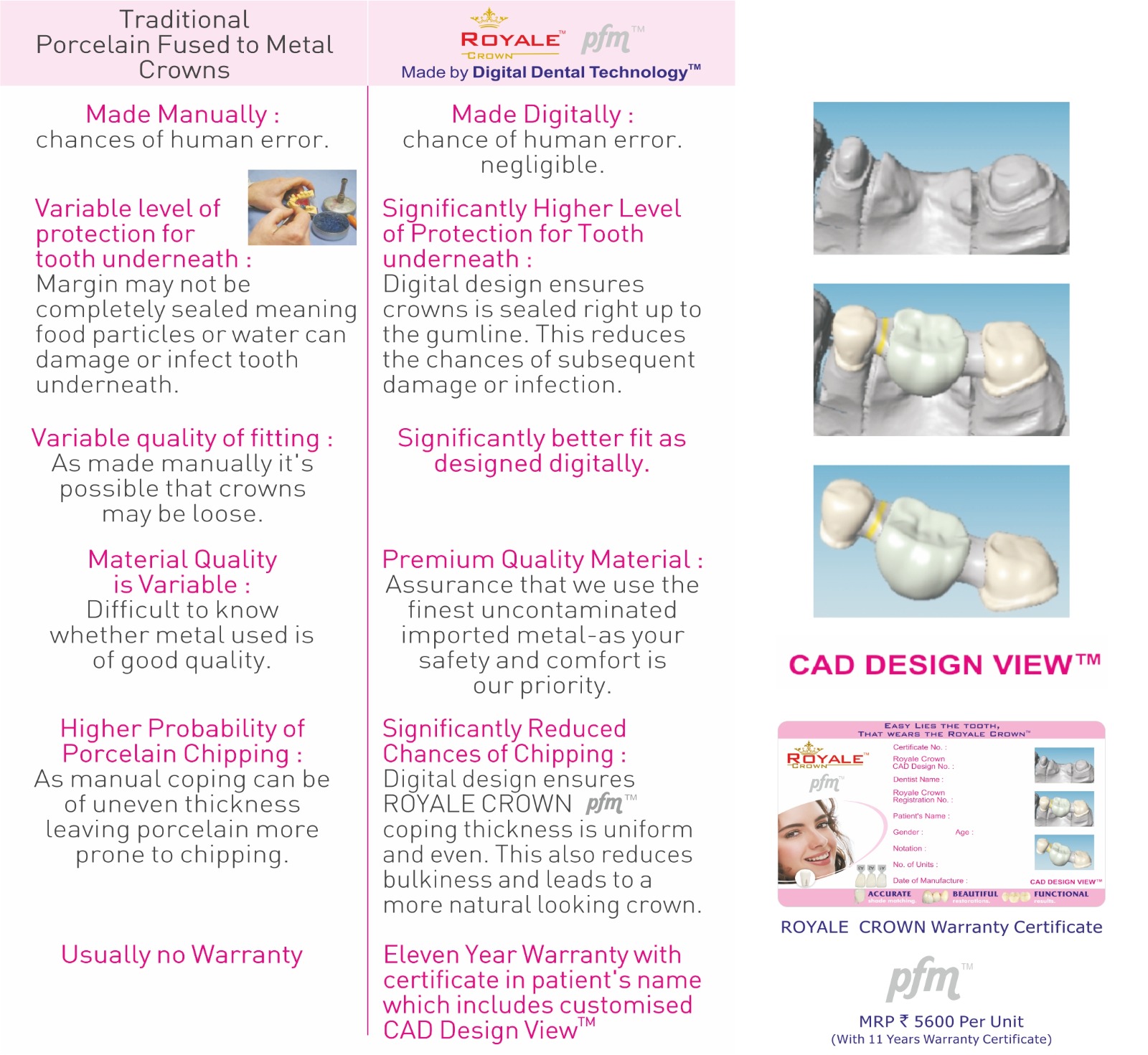 Where can I get Royale Crown PFM?
Royale Crowns are only available through member dentists that are registered with Royale Crown and Teeth Pvt Ltd.
Your nearest Royale Crown member dentist will be happy to provide more information. During a consultation they will be able to assess your teeth, explore the treatment options and fit your Royale Crown.
If you need help finding your nearest Royale Crown member dentist, don't hesitate to contact us.
What's the MRP of Royale Crown PFM?
The MRP for a Royale Crown PFM is INR 5600 per unit.